ONE CHANCE, ONE DANCE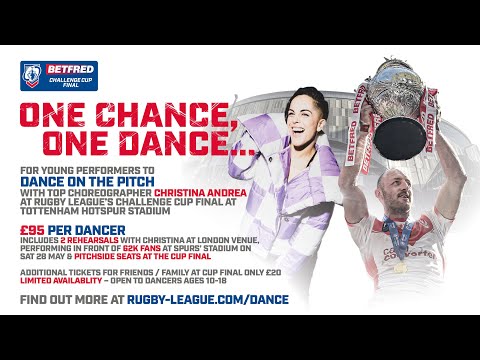 CALLING ALL YOUNG PERFORMERS - don't miss the opportunity to dance with top choreographer Christina Andrea at Rugby League's showpiece Challenge Cup Final at Tottenham Hotspur Stadium on Sat 28 May 2022.
At £95 per dancer, the Cup Final experience includes two rehearsals (Sat 21 & Sun 22 May) with Christina at a London venue, performing in front of 62,000 fans at Spurs' stadium on Sat 28 May (from 12pm) and pitchside match seats. Additional tickets for any friends or family attending to support dancers are only £20 each.
Availability is limited with the experience open to dancers ages 10-18 and all dance proficiency levels welcome. Following your ticket purchase, you will be contacted by the Rugby Football League to confirm your match seats for the Betfred Challenge Cup Final (KO 15:00).
Please note that the Cup Final is televised live on BBC1 so by agreeing by taking part in the dance experience, you are providing your consent to potentially be filmed during the dance performance.
Christina has worked globally with artists Jessie J, Adam Lambert, Anastacia and Dido as well as with international brands like BBC, Cartoon Network, ITV and Nike. She also teaches at London's iconic Pineapple and Base dance studios.
We hope you can join us at Tottenham Hotspur Stadium. For any queries, please contact Lyndsey Ward at the Rugby Football League at lyndsey.ward@rfl.co.uk.